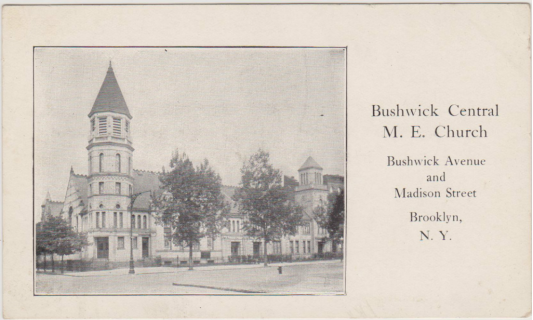 Bushwick Central Methodist Episcopal Church (originally Bushwick Avenue M.E. Church, now Bushwick United M.E. Church) is a Romanesque Revival style brick and terra cotta church built in 1887, designed by George W. Kramer. Contructed in 1901, the existing structure replaced an earlier frame church that was constructed in 1887 (W. J. Browne, architect1). DOB records indicate that the existing structure is an alteration, however the former church was completely replaced.
The church was illustrated in Kramer's book "The What, How, and why of Church Building" (1897). A cornerstone dated 1912 may refer to a later addition.
1. "Plan 1199", Real Estate Record and Builders' Guide, v. 40, no. 1007: July 2, 1887, 914.
Address
1123 Bushwick Avenue
11221 NY
United States