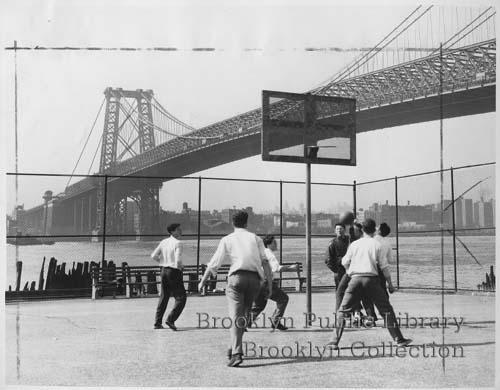 [This blog post was originally published at http://www.wgpa.us/2009/01/kent-playground.html]
Effective Saturday, East River State Park is closed for the season. State Parks had been saying they were going to do it, but there was some hope that a deal might be reached to keep it open. We hear that both Friends of BEDT Park and Assemblyman Lentol are still working to reach a deal that would allow public access to the only significant waterfront open space in all of north Brooklyn. Meanwhile, all of the other state parks in NYC (including Fulton Ferry in Dumbo) remain open.
Coincidentally, we came across this picture while trolling the Brooklyn Public Library's website this evening. Taken in 1950, it shows a former NYC Department of Parks playground on Kent Avenue between Broadway and South Sixth Street. The site is now home to a city DOT facility. Even more coincidentally, this is the exact same location that OSA and others have proposed DOT turn over to Parks in order to create additional waterfront open space. If it ever came to pass, it would provide a nice terminus to the proposed Domino espanade.